"Monday 7.27.2020"
VAGABOND RE OPENING ON MONDAY, JULY 13TH FOR FULL OPEN GYM FORMAT SCHEDULE-WE ARE BACK-PLEASE CHECK SCHEDULE BELOW ON LINK.
As always, please feel free to PM, call, or reach out to me if you have any questions or concerns.
+
VAGABOND OF THE MONTH FOR JUNE: JESSICA PICKETT
Best thing about Vagabond:
"The people at Vagabond are what keep me coming back for more. I love that everyone pushes one another and supports one another. Even when we haven't been able to get into the gym during this crazy time, the photos and posts on Facebook have kept me going! The coaches are all knowledgeable and I have learned so much from them over the last year."
+
Vagabond Annual Summer Party on Saturday, August 8th @ 3:00 pm to Whenever It Ends:
S A V E the D A T E for our annual summer BBQ and pool party at the Flynn's on Saturday August 8th! We'll have food, yard games, swimming, ice cream truck, DJ for music and fun for the whole family! Come kick back, relax and enjoy our awesome group! Thanks to the Flynn's for hosting again this year- renovations on their gorgeous house will be done just in time! If you've never stopped by the farm's nursery, Save the date for now, Vagabonds!
+
Vagabond Open Gym Format New Schedule When Officially Open
Here is our new schedule to allow all to have more time to get to the gym during this "new normal". This will allow all of you not too stress about getting to a class but be able to show up when you want and with your friends as well. This will allow us as a staff to shift our focus on coaching, teaching, helping and guiding each person and small group to the best of their ability and be able to give you guys more from all our staff and coaches during the open gym hours for PROPER, GUIDED COACHING instead of just managing a class. This will also allow all to feel comfortable in smaller groups and be able to choose when you want to come in! We will still have group classes on the weekends and our ever famous Partner Workout Saturday! More info to come but still same workouts from all 3 phase AND babysitting from 9-10 am as always. As 9 years ago I developed this 3 phase system to allow for more options for Vagabonds and to keep safe and be productive and this is the VBWAY!
PLEASE CLICK HERE FOR NEW FULLY UDATED OPEN GYM FORMAT SCHEDULE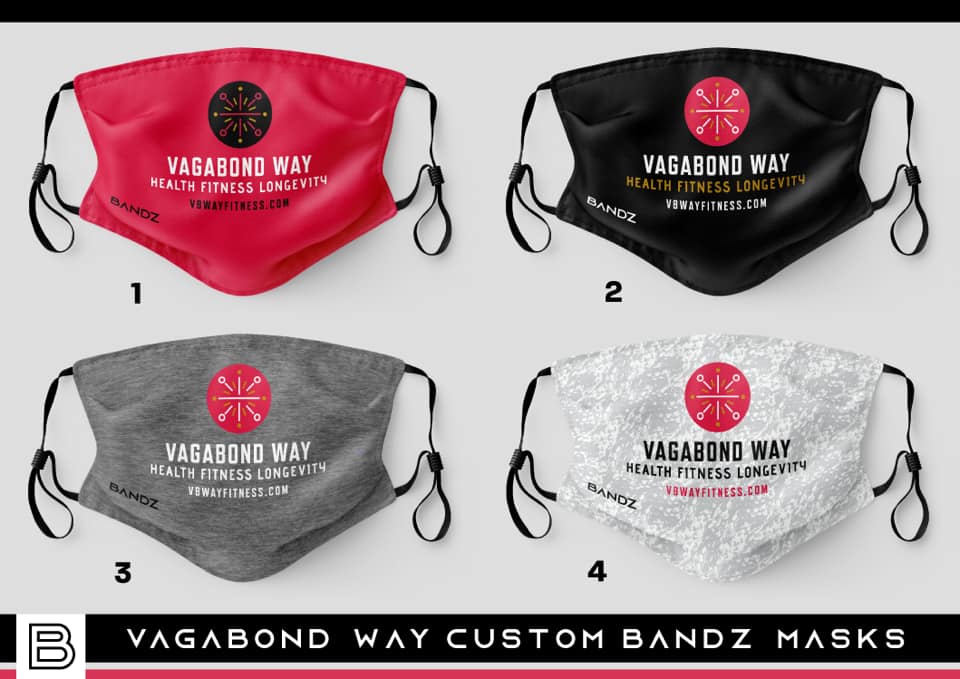 I. Dynamic and Mobility Prep Warm-Up:
3 minutes of z1 work
+
5 Minutes of the following:
Client Option Warm-Up
+
START STRENGTH + ACCESSORY….
+
II. Phases Strength + Conditioning of the following:
A. Lifestyle Phase
Lower Body Squat/Upper Body Unilateral Press+ Conditioning
A1. High Bar Back Squat (Heel Lift or Not), 4 reps x 4 sets, rest 15 seconds.
*Last time Tested 1RM: October 1st, 2019, November 18th, 2019, December 24th, 2019*
*We did 5 reps on July 13th for total of 20 reps.*
A2. Samson Stretch, 5 reps/each wayx 4 sets, rest 30 seconds.
A3. Single Arm Standing Press, 8 reps/each arm x 4 sets, rest 30 seconds.
A4. Hip Rocks, 15 reps x 4 sets, rest 30 seconds.
*FOCUS IS BACK SQUAT + UPPER BODY UNILATERAL PRESSING + MOBILITY DURING ALL 4 SETS*
+
B. Conditioning of the following:
5 Sets of the following @ Hard effort each set of:
12 Goblet Squats
12 KBS Russian
8-12 No Push-Up Burpees
15-20 Cal Row
*Rest 1 minute between sets*
+
B. Fitness Phase
Olympic Lifting/Single Leg Unilateral + Conditioning
A1. 3 Position Hang Power Clean, 1 reps @ each position x 4 sets, rest 30 seconds.
*You will clean deadlift to high hang position, you will do 1 rep from the high hang position, and then re-grip, and 1 rep from the mid thigh position, and then 1 rep from below the knee, that is one completed set, move to A2.*
A2. Calf Stretch Against Wall, 5 second hold x 5 reps/each foot x 4 sets, rest 30 seconds.
A3. Single Leg Walking Lunges Weighted, 5 reps/each arm x 4 sets, rest 30 seconds.
A4. Hip Rocks, 15 reps x 4 sets, rest 30 seconds.
*FOCUS IS POSITIONAL SNATCH WORK + LOWER BODY UNILATERAL SQUATTING + MOBILITY DURING ALL 4 SETS*
+
B. Conditioning of the following:
5 Sets of the following @ Hard effort each set of:
12 Goblet Squats
12 Russian Swings
8-12 No Push-Up Burpees
200 Meter Run
*Rest 1 minute between sets*