"Saturday 1.9.2021 + Sunday 1.10.2021"
Vagabond of the Month for December: Marcos Soto
"When I first started in Vagabond, I was not confident that I was able to do the workout, but Jayson was always there to support me and direct me on how to do the exercises. I was not even sure I was going to be able to do half the workout then. Now I look forward every day to go into Vagabond and get the workout done."
+
RULES FOR MASK WEARING INSIDE GYM:
Starting as of this Friday, November 6th, people will have to wear masks while they walk into building like they have and go to their X, once they are at X or there designated spot, you must leave mask present on face(WE OFFER BREATHABLE APPARATUS TO GO INTO YOUR MASK TO ALLOW BETTER BREATHING OPTIONS), and while moving around inside gym, they must put mask on and have by persons!
+
Upcoming Events for VBWAY Community
Vagabond Circuit Training Class Starts on Sunday, January 3rd @ 9:00 am:
To reserve spot today, contact Kevin for more information on this moderate intense, high volume class based on Bodyweight + Accessory Movements that allows you to work thru multiple workouts in a moderate intense environment, which is great for weight loss, sweating, and eliciting the dose response we are looking for thru building the aerobic/cardio system. Spots are limited to 15 people in total for the class. Contact us today for more information to reserve spot! 5 Weeks for a total of $80.
+
Vagabond Open Gym Format New Schedule When Officially Open
Here is our new schedule to allow all to have more time to get to the gym during this "new normal". This will allow all of you not too stress about getting to a class but be able to show up when you want and with your friends as well. This will allow us as a staff to shift our focus on coaching, teaching, helping and guiding each person and small group to the best of their ability and be able to give you guys more from all our staff and coaches during the open gym hours for PROPER, GUIDED COACHING instead of just managing a class. This will also allow all to feel comfortable in smaller groups and be able to choose when you want to come in! We will still have group classes on the weekends and our ever famous Partner Workout Saturday! More info to come but still same workouts from all 3 phase AND babysitting from 9-10 am as always. As 9 years ago I developed this 3 phase system to allow for more options for Vagabonds and to keep safe and be productive and this is the VBWAY!
PLEASE CLICK HERE FOR NEW FULLY UDATED OPEN GYM FORMAT SCHEDULE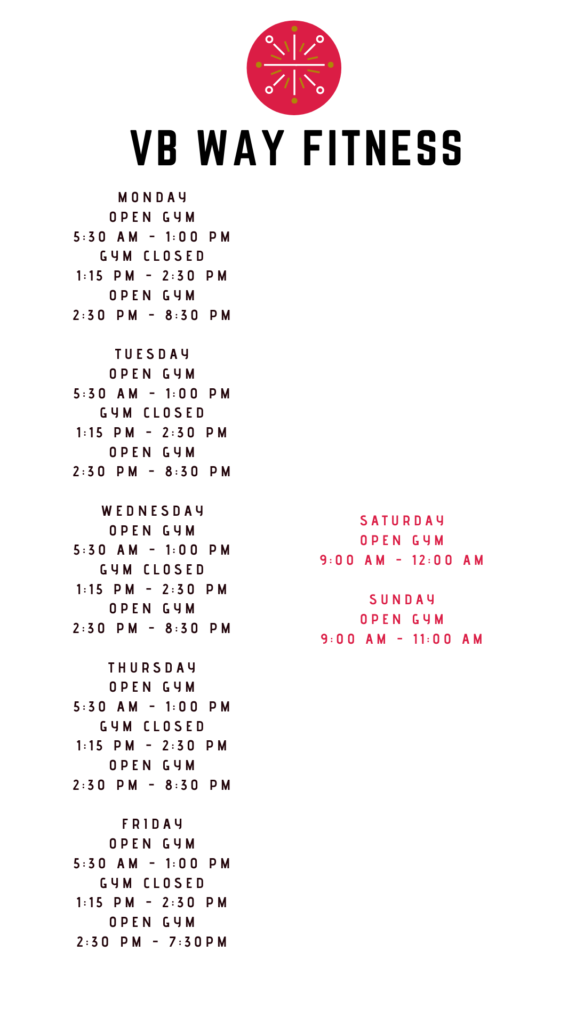 I. Dynamic and Mobility Prep Warm-Up:
3 minutes of z1 work
+
5 Minutes of the following:
Client Option Warm-Up
+
START STRENGTH + ACCESSORY….
+
II. Phases Strength + Conditioning of the following:
A. Lifestyle + Fitness Phase
Saturday, January 9th, 2021
Community Open Workout 9 am to 12 pm
Complete the following of:
30 Minutes on the Clock of the following:
Can Perform as Individual or Partner Workout of:
12-15 Cal Row or Cal Assault Bike
9-12 Russian KBS or 9-12 Hang Power Cleans
6-9 Burpees
3-6 Goblet Squats or Front Squats
1-3 Push Press
*Just keep moving as an individual, if team workout, then one partner does 1 round, then the next partner does next round continue this for 30 minutes straight*
+
Sunday, January 10th, 2020:
Open Gym 9 am to 11 am
A. Posterior Chain of the following:
4 Sets of the following:
5 Weighted Step-Ups/each leg
10 Monster Band Walks/each way
20 Banded Face Pulls
10 Glute Bridges
20 Meter Double Arm KB Rack Carry
+
B. Conditioning Piece of the following:
5 Rounds of the following:
15 DB Floor Press
12 DB Front Squats
9 DB Curls
6 Ball Slams
3 Tall Box Jumps
Post Comments to Group Page.